Click the image to be transported to the latest Epicenter for Peace. We are organizing a non-violent protest to target congressmen and women who support the spreading of war, asking them to put a stop to George's Great Adventure.
The effort is already attracting the attention of local media in Michigan, where BostonJoe has spearheaded the idea.
"Flower power" may be making a comeback as activists plan to send carnations and other Petals for Peace to the Lansing office of U.S. Rep. Mike Rogers, R-Brighton, in hopes of getting him to reconsider his support for the war in Iraq.

Mares Hirchert, a Democratic activist in Hartland Township, plans to take part by sending a copy of a painting of flowers and some actual flowers to Rogers.

"It just seemed like something everybody can do," she said.

Hirchert said Rogers should shift focus from his legislation to stop protests at military funerals: "Why aren't we working on stopping the funerals in the first place?"

The flower protest is being organized by Terry Olson, a member of the Greater Lansing Network Against War and Injustice. He said it's a continuation of a weeklong demonstration in late March.
Spread the word! Recommends and comments at DKos are greatly appreciated. PAZ!
[UPDATE] Here's another image to use for your faxes for Peace: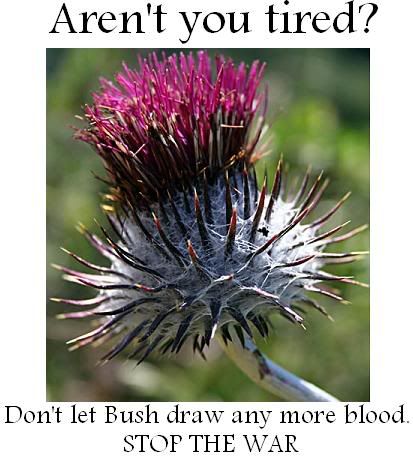 Tags

:

Iraq war, Petals for Peace, antiwar protests, Mike Rogers