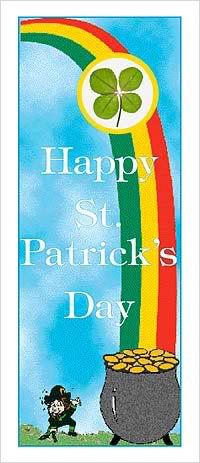 You know it's Saint Patrick's Day when one of your fellow Metro travelers is wearing radioactive green pants and a shamrock vest over a black dress shirt with green tie. Good stuff.
As part of the commemoration, I thought I'd highlight this piece from the USA Today about Mexico's annual remembrance of the solidarity they received from Irish American and Irish Immigrant soldiers during the U.S./Mexico War in the mid 1800s. To this day, Los San Patricios are honored in Mexico City with bagpipes and merriment.
The deserters became known as the San Patricios and were led by John Riley, an artilleryman who had fought in the British army. They were joined by a few Swiss, French, Scottish and German recruits, most of them also Catholic.

Called los colorados, or "the redheads," by their Mexican comrades, they fought against the Americans at the key battles of Monterrey, Buena Vista and Cerro Gordo.

The Americans eventually reached the outskirts of Mexico City on Aug. 20, 1847. Mexican forces, with the remaining San Patricios handling the artillery, pounded the Americans from a monastery-turned-fort on the Churubusco River until they ran out of ammunition. Thirty-five San Patricios died in the battle, 85 were captured, and another 85 retreated with the remnants of the Mexican army.

On Sept. 13, 1847, the Americans seized Chapultepec Castle in the war's last major battle. San Patricios who had deserted before the war were branded by the Americans with the letter "D" on one cheek. The rest were hanged, including 30 who were executed at the foot of Chapultepec Hill.

"They were hanged at the moment that the American flag was raised over the castle of Chapultepec, so that they would take that sight to hell with them," Mayer said.

Mexico lost nearly half its territory as a result of the war, while the United States gained California and the Southwest. Even today, many Mexican school textbooks portray the war as an unjust land grab by the United States that led to the divergent economic paths followed by the two neighbors.


linkage
That ought to wake things up around here :)
¡Sláinte!
mas información: