It has been a rough week. I have a bit of an emotional hangover from the past several days. My tia's funeral was an amazing celebration of family with close to 300 people gathering to honor her memory as well as the long legacy of the grandparents that started it all in the late 1800s.
To give you an idea of how woven our family is: my tia is survived by 12 children/stepchildren, 40 grandchildren, and 43 great-grandchildren...and she's just one of four siblings. Her grandmother was my great-grandmother and the matriarch of a HUGE Mexican-American family that spans the country. Most of us are in Arizona, but a sizeable group have colonized the Indio area near Palm Springs, CA. We're all fairly close to one another, it's a great feeling to know that you are part of something greater than yourself.
I did alot of listening yesterday and today during the services. The stories, the memories of times past but not forgotten, it caused that flame in my
sangre
to burn alittle brighter to learn more of my roots.
I would be remiss if I didn't mention the snow, it has been many years since we got so much in our sleepy little corner of the Superstition Mountains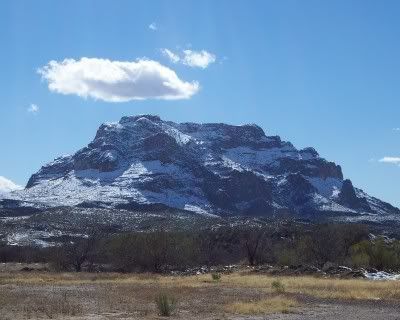 How's everybody doing? I hear Russ is trying to throw down the gauntlet in the Senate. I hope it jolts some of his colleagues into doing their job and holding these warmongers accountable.